Frequently Asked Questions – FAQ
Q. I feel like I'm invading my teenager's privacy. Am I a bad person ?
A. I'll let a letter from a customer, the Collins family, answer this:
"…My wife and I have been extremely impressed with the dramatic effects this device had on our daughter's driving habits.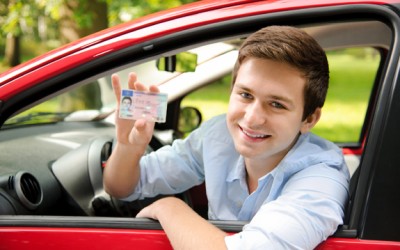 Excited teen male driver in car with driver
My daughter was almost seventeen when one morning she and I left the house within seconds of one another. I quickly realized that the speed she was traveling was not acceptable for the area in which she was driving and was definitely above the posted speed limit…
That night my daughter was informed of the consequences of her morning driving habits.
We described your product (we had learned about) to her and stated it would be installed as soon as it arrived.
The next day she told her friends, who were horrified that a device like this was available, and they wanted to make sure that their parents didn't hear of it…
The first day (after the device was installed), she was confident that she had stayed within all of the (speed) limits…
We went inside to read…the computer and then we discussed the (speeding) violations with her.
We emphasized that the violations were not being viewed as items needing punishment but as items needing to be worked on…
With this information we (also) realized that she was entering the subdivision at more than the posted limit. This problem was quickly fixed.
Even more importantly, we know that her risk taking with the automobile has been reduced and her driving habits have been improved. These improvements we feel will decrease the chance of her being in a accident if she is driving alone or with her two other sisters in the car…
Many parents we have talked to have been happy to learn about the product but several parents have stated that they feel it is an invasion of their child's privacy. Personally, I feel that anything that I can do to help my daughter survive her teenage years far outweighs any potential privacy concerns.
Your help in providing a product that has yielded a much improved teen driver will be forever appreciated by both my wife and I. Thank you."

Q. Why should I use one of these products ?
 A. These products are a silent partner that allows you to keep your teen driver safe. The Car Chip Pro tells you their quality of driving. And the CellControl keeps them from using a cell phone/PDA while the vehicle is moving.

Q. Are the products difficult to install ?
A. No, you simply connect the Car Chip Pro and CellControl to the OBD II port under the driver's side dashboard.

Q. Statistically, how dangerous is it for teens on the road ?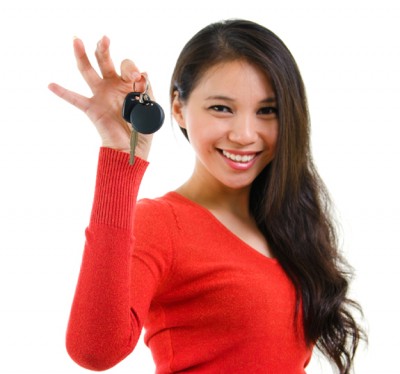 Excited teen female driver holding vehicle key
A. The facts are scary. Here they are:
• About 3,500 teens died in the USA in 2003 in teen-driven vehicles.
• On the average day, 10 teens are killed in teen-driven autos.
• 1 in 5 16 year old drivers crash their car within the first year.
• More than 2/3 of fatal single-vehicle teen crashes involved nighttime driving or at least one passenger age 16-19. Nearly 3/4 of the drivers in those crashes were male. And 16 year old drivers were the riskiest of all. Their rate of involvemen in fatal crashes was nearly 5 times that of drivers ages 20 and older. (Source: Insurance Institute for Highway Safety)
• 16 year olds make driving errors, exceed speed limits, run off roads & roll their vehicles over at higher rates than do older drivers involved in fatal crashes.
• Teens' risk of dying nearly doubles with the addition of one male passenger. It more than doubles with 2 or more young men in the car. (Source: Insurance Institute)
• Teen drivers are 3 times as likely as drivers 20 and older to be involved in fatal crashes between 9 p.m. & 6 a.m. And 16 year olds die at night at twice the rate as in the daytime. (Source: Insurance Institute) It's harder to see at night, so it's harder to react quickly to obstacles. Inexperienced drivers are more vulnerable to making errors after dark.
• Driver error is involved in 77% of fatal crashes involving 16 year old drivers.
• 937 16 year old drivers were involved in fatal crashes in 2003.
• About 1/3 of all 16 year old drivers and 1/4 of 17-19 year old drivers involved in fatal crashes rolled their vehicles. Rollovers often occur when a driver overcorrects and runs off the road. Inexperienced teens are most likely to do so.
• Male drivers are about 75% more likely than female teen drivers to be involved in fatal crashes (Source: Insurance Institute)
• A 16 year old teen driver is almost 6 times more likely to die in a fatal crash than a 40 year old adult.
• Motor vehicle crashes are, by far, the leading cause of teen deaths: Motor Vehicle crashes=41%, Homicide=14%, Suicide=11%, Malignant tumors=5%, Heart disease=3%
• Genetically, the part of the brain that weighs risks & controls impulsive behavior isn't fully developed until about age 25 (Source: National Institute of Health)

Q. What are your product return policies ?
(NOTE: Product must be complete and re-sellable or deductions will be made from refund.)
A. 'Real Time with History' – Both Wired & Plug-in versions of product:
Note: This product arrives to you ready-to-track with services in place that include: Cellular connectivity, Tracking on our website, DOT Speed Monitoring & Cellular/Email Alerts.
If you have the product for a number of months without using it, we still incur costs of having everything set up. It's only fair that you reimburse us for these costs.
* Within 30 days = Full refund
* 31 days – 60 days = Refund less $10.00
* 61 days – 90 days = Refund less $20.00
* 91 days – 120 days = Refund less $30.00
* 121 days and over = No Refund available
– The Start Date is the day that you receive the product.
– The End Date is the day that you mail it back to Alltrack USA. Proof of this date is determined by: the date it was shipped will be on the UPS or USPS shipping label; or via the tracking #.
A. 'Car Chip Pro' product:
* Within 3 months = Full refund
* Over 3 months = No refund available
A. 'CellControl' product":
* Within 1 month = Full refund
* Within 2 – 3 months = 90% refund
* Over 3 months = No refund available

Q. What is GPS ?
A. The Global Positioning System (GPS) is a constellation of satellites that orbit the earth 11,000 nautical miles above and transmit precise time and position (latitude, longitude and altitude) information. These satellites, perfectly positioned to cover the entire planet at any time in the earth's rotation, transmit signals that can be detected by a GPS receiver. With a GPS receiver, users can determine their location anywhere on the Earth. These receivers then process the signals with a triangulation mechanism to determine your location.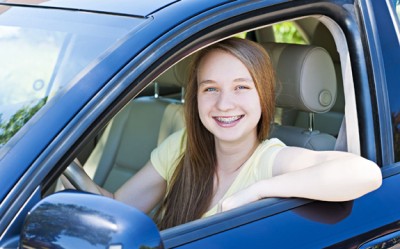 Excited teenate female driver sitting in vehicle
Position and navigation information is vital to a broad range of professional and personal activities, including vehicle tracking, hiking, hunting, camping, boating, surveying, aviation, national defense, navigation and more.
The GPS system was originally developed for the U.S. Department of Defense, yet its potential and actual commercial applications are continually being discovered and enhanced. GPS is now often used by hikers and police departments, in aircraft and ships, and many auto manufacturers are implementing this technology into their cars.
How many satellites are there ? – The complete system consists of 24 satellites orbiting about 11,000 miles above the Earth, and five primary ground stations to monitor and manage the satellite constellation. These satellites provide 24-hour-a-day/ 7 days-a-week coverage for both two and three dimensional positioning anywhere on Earth.
Who developed it ? – Development of the $10 billion GPS satellite navigation system was begun in the 1970s by the US Department of Defense, which continues to manage the system, to provide continuous, worldwide positioning and navigation data to US military forces around the globe. However, GPS has an even broader civilian, commercial application. To meet these needs, GPS offers two levels of service: one for civilian access and the second encrypted for exclusive military use. The GPS signals are available to an unlimited number of users simultaneously, and there is no charge for using the GPS Satellites.
How exactly does it work ? – The basis of GPS technology is precise time and position information. Using atomic clocks and location data, each satellite continuously broadcasts the time and its position. A GPS receiver receives these signals, listening to three or more satellites at once, to determine the user's position on earth. By measuring the time interval between the transmission and the reception of a satellite signal, the GPS receiver calculates the user and each satellite. Using the distance measurements of at least three satellites in an algorithm computation, the GPS receiver arrives at an accurate position fix. Information must be received from three satellites in order to obtain two-dimensional fixes (latitude and longitude), and four satellites are required for three-dimensional positioning (latitude, longitude and altitude).
Who is utilizing this technology ? – Vehicle tracking is one of the fastest-growing GPS applications. GPS-equipped fleet vehicles, public transportation systems, delivery trucks, and courier services use receivers to monitor their locations at all times. Not only can vehicle tracking help improve efficiencies and productivity in mobile businesses, but they can also help overcome common problems such as getting lost and vehicle theft.

(Source: National Institute of Health)

Q. For products that are 'hard-wired' to the vehicle, how can I connect the wires to power on my vehicle ?
A. Click here for a link on suggestions about this.

Q. How popular is GPS vehicle monitoring ?
A. It's really taken off as since 2003. Today, many people know of Real Time GPS vehicle tracking and GPS vehicle monitoring. In 2003, many people were aware of using GPS in their vehicles to navigate where to drive. But they hadn't heard of remotely using a GPS tracking chip or Real Time GPS vehicle tracking to see where a vehicle presently is, on a computer screen or hand held device. The passive GPS tracker is popular, too, for people who don't need real time viewing and just want see, after the fact, where a vehicle has been and speeds driven.

Q. What is your Privacy Policy ?
A. We never share or sell any information about you in any way.
Similar to many commercial websites, the Alltrackusa.com website uses cookies, tracking pixels and related technologies. Cookies are small data files that are served by our platform and stored on your device. Our site uses cookies dropped by us or third parties for a variety of purposes including to operate and personalize the website. Also, cookies may also be used to track how you use the site to target ads to you on other websites.
You can choose to disable cookies for our Website but this may limit your ability to use our Website. If you wish to opt out of having cookies set on your browser, the best way to ensure that this happens is to manage the settings on your web browser to delete all cookies and disallow further acceptance of cookies. For more information, refer to your browser's technical information. You may also consider visiting aboutcookies.org, which provides helpful information about cookies.