The opposite of 'Real Time' is 'Passive', meaning Past Tense. With Passive GPS Trackers, you wait until the vehicle returns home and then download the travel data to your computer to see where it's been (in the past).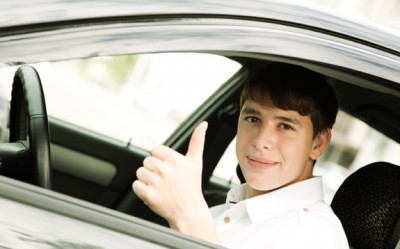 Excited teenage male driver giving thumbs up
How are they used ?
Passive GPS Trackers have internal memory to store GPS travel data as the vehicle is driven. They're primarily recording devices, and sometimes called 'data loggers'. The travel data recorded includes speed, location and active drive time.
Periodically, the device is removed from the vehicle and connected to a computer (usually via USB port) to have all of the travel data downloaded to it. Then a history of the vehicle's travels can be viewed on the computer using special software from the manufacturer.
Is there a monthly fee while using them ?
No: Passive devices are cheaper to own because there's NO monthly fee to use them. This is primarily because they don't have any cellular communications built into them as they DON'T not need to call in travel data in Real Time to a tracking website as the vehicle's driven.
Are there any down sides to using them ?
There is one: The memory can become full and you'll lose travel data. You have to remember to periodically remove the device from the vehicle to download the travel data to your computer. If you don't, the memory can become full and, depending on the product, either stop recording -OR- start overwriting existing travel data with new data.
Note: Alltrack USA currently does NOT offer any Passive GPS Tracking products for sale.
Related Topic Links