Where does the expression 'Real Time' come from ?
* This term is a noun and can also be expressed with a hyphen: 'Real-Time'.
* Definition = A computer/data-processing system that receives constantly changing data. It then processes it at the same rate as it's received (typically milliseconds and microseconds).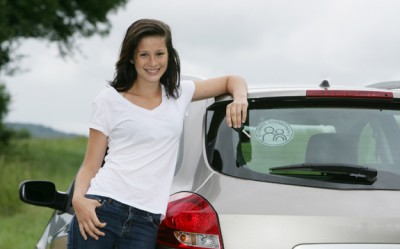 Excited teenage female driver standing next to car
* Synonyms = at once; instantaneously
The term originated in the early 1960s from its use in government simulation, in which a real-world process was simulated at a rate that matched that of the real process. More specifically, fear of nuclear attack prompted the U.S. military to commission a new radar system that would process large amounts of information and immediately display it in a form that humans could readily understand. The resulting radar defense system was the first 'Real Time,' or instantaneous, simulation of data.
About Real-time GPS Tracking
Real-time vehicle tracking systems rely on both the Global Positioning System (GPS) satellites and cellular communication. A GPS Tracking Device continuously picks up the vehicle's precise GPS coordinates, which determines it's Real Time location. Using a cellular data service, the tracking coordinates are immediately called in to a secured computer server.
The vehicle location can be viewed by logging into a password-protected website. This is usually done on a computer with internet access. But you can monitor where your vehicle is even when you're not in front of your computer. In addition to using a PC or laptop, see a map of your vehicle's current location using an Internet-enabled Android, iPhone, Blackberry or other hand held device.
Be sure to check out our Premier Real Time GPS Tracking product: Real Time with History
Related Topic Links